Moving from Japan to Italy
Customs Guide for shipping personal effects to Italy
Documents Required
Copy of valid passport
Packing List describing the contents for each package
Bill of lading or a copy surrendered bill of lading (an air waybill) You will receive it from your international mover.
Copy of tax code number (Codice Fiscale) obtained from the Agenzia delle Entrate (Revenue Agency)
Customs Declaration form for personal effects - "Customs Dichiarazione Sostitutiva di Certificazione" (Every country has its own form to submit.)
Permit to stay in Italy from the headquarter of police, "Questura Police office."
Residence certificate and receipt from Italian city hall verifying that the owner of the personal effects has requested residence registration for moving in.
Dichiarazione Consolare di Rimpatrio (consular declaration) from Italian Embassy or Consulate (Italian citizens)
Packing list submitted together with Dichiarazione Consolare di Rimpatrio. For more details, contact the Italian Embassy or Consulate.
When filling out the Dichiarazione Sostitutiva di Certificazione (customs declaration form) following information will be required.
-Number of accompanying family members
-Nationality and city of permanent residence
-Name of the country from where the shipment is arriving from and the owner is moving from.
-The date when the owner of the goods starts residency in Italy.
When filling out the Consular Declaration "Dichiarazione Consolare di Rimpatrio e following information will be required.
-The length of time the owner of the goods were outside Italy. This has to be 12 months or more.
-The date of arrival in Italy (This principally has to be a definite date.)
If importing new furniture, one must obtain an authorization from the customs in advance by paying import duties and VAT. (Duty rates are different depending the materials.)
Unaccompanied personal effects and household goods must be imported to Italy within six months from the date when the owner of the goods establishing residency duty/tax free.
About Italy
For a little Dolce Vita, head to Italy. This beautiful country is full of history, culture and a rich culinary heritage. There are magnificent cities here and some fabulous villages and countryside. Whether you plan to move to Italy or spend a few days on a city break you'll find something to suit. In Italy you'll discover art, music and a laid back lifestyle and enjoy the diverse areas across the country. There are efficient transport systems in Italy and an excellent modern health service. Many cities have international schools and there are lots of ways of getting involved in the community.
In Rome you'll find the city of the Ancient Romans as well as the Vatican and some great shops and restaurants. Florence is for art lovers with the renowned Uffizi Gallery and the fabulous architecture of the Medici. You'll find beautiful Tuscan villages too and scenery straight from a painting. Italy is famed for its music too and opera fans will enjoy Milan and Verona. In Cremona the famous Stradivarius violins were made and look out for open air concerts all over Italy in summer. The mountains and lakes are a feature of Italy too. Have fun skiing and hiking in the Dolomites or go sailing in Lake Maggiore or swimming off the Amalfi Coast. In Italy the food is a big part of everyday life with specialties in each region. You can enjoy the seafood in Venice, chocolate in Perugia, and risotto in Milan or Pizza in Naples. The open air markets are a feast of the senses and you'll be tempted to cook with all the fresh ingredients. Italy is an exciting place to live in and is ideal for those looking for a lifestyle filled with activities and culture.
International Moving to Italy
Italy is famous worldwide for its beauty, from its nature to its historical and artistic heritage. The art cities are indelible witnesses to its history, its culture and ancient art. Tourist attractions offer a number of options to enjoy free time, such as visiting large and small cities, churches, palaces, archaeological sites and museums. You can enjoy the pleasure of shopping, sitting down to drink a cappuccino or a glass of wine or enjoy the gastronomic specialties, those of the best-known restaurants in the big cities. You can also visit small restaurants that are located in historic centers or along any street in Italy.
To move internationally to Italy and live there as a resident, however, is very different from visiting the country as a tourist. After you have moved from Japan (or from anywhere in the world) to the country, it will be necessary to deal with many little problems every day. Therefore, we list below what is useful to know before moving from Japan to Italy.
First of all, the citizens of a member State of the European Union have free entry into the territory of the Italian Republic. Citizens must have an identification document, which validates entry into the territory of the State. Citizens outside European countries such as Japan, the United States or Canada, instead must be provided with a passport and a visa.
BUREAUCRACY
Unlike some other countries in Western Europe, such as the United Kingdom, France or Germany, in Italy there is a lot of bureaucracy. To seek the right office is a challenge and, once you find it, most of the time you will find it closed (unlike Japan, the USA, or other European countries, many offices are open only a few days and only for a few hours even during the weekdays). You will also need to obtain all kinds of documents, and the procedures for doing so are often both complicated and incomprehensible. In any type of office you will see long lines of people to request a document. If the entire bureaucracy baffles Italians, just imagine how it can be for internationals moving to the country! When you're dealing with Italian bureaucracy, try to remain composed and polite (even if you would like to insult the person in front of you because of the bureaucracy you are going through) and, if your Italian is not excellent, ask someone who can help you (most of officials speak only Italian). Take nothing for granted, and make sure you understand all that is said. Again, if you have any doubts, look for someone to help you and to translate everything.  Overall bureaucracy is quite a challenge for people moved to Italy from overseas such as Japan or the USA.
FIND A JOB
Finding a job in Italy most of the time is not easy, especially if you are an international resident who has just moved into the country. Unemployment in Italy is very high and it varies depending on the region. With regard to the south, the rate is as high as up to 50% in some areas, so many young people generally prefer to move to the north, where the economy is more stable or even move to other countries to look for work. Most of the international moving destinations to look for jobs would be within Europe.
FIND A HOME
If you move to Italy or to any other country from Japan, the first difficulty you need to go through will be to find a place to live. In most Italian regions, finding accommodation to rent or buy is not difficult, assuming your needs are not pretentious. There are, however, some exceptions. For example, in major cities like Rome and Milan, the demand for rentals is noticeable while the availability is quite low. Italy has a strong rental market and it's possible to rent every kind of property, from a small apartment to a huge castle. This is a good thing for those who are moving to the country. If you are looking for accommodation for less than a year, such as when you are moving to the city but do not intend to stay there for a long period of time, it is best to choose a furnished apartment. Most rental properties are let unfurnished, particularly for short-term rent, and those that are furnished are hard to find. Keep in mind that "unfurnished apartment" in Italian means a property that is completely empty. There is nothing at all in the kitchen, including appliances, and also there are no curtains or carpet, while furnished apartments are usually fully equipped, including crockery, bedding and possibly towels. This is a very good option for those who are moving from Japan, since shipping large items is normally very expensive. You would not need to ship pieces of furniture from Japan or purchase new ones.
Soon after moving into the new home it is advisable to make contact with all the companies that provide services like electricity, gas and telephone. Domicile or residence must be communicated as soon as possible to the registers of the City after signing the lease.
HEALTH SYSTEM
In Italy, citizens and international residents are entitled to health care that provides, for adults, the right to choose the doctor and, for children under 14 years old, a pediatrician. To receive health care is compulsory and just requires a free registration to the National Health Service, and then you choose a doctor or a pediatrician, whose names are included on a list available at the district offices of ASS. Upon registration you receive a health card that must be presented to receive health services. If you are not entitled to public assistance, you must have private insurance and show proof of it when you apply for a residence permit.
THE ITALIAN LANGUAGE
If you are moving to Italy but you do not speak Italian fluently, you may take part in a language course. If you want to move to Italy and have a nice stay in Italy, it's essential to learn Italian as soon as possible, because in many areas English is spoken little or not at all. It is not easy to learn Italian quickly (apart from a few words), but you must make an effort. Your work, your social life and your success are directly related to the level of fluency in Italian. There are many language schools throughout Italy offering a wide range of classes to suit your language skills, your availability of time (how many hours you wish to study), your income and how quickly you wish to learn it. Having said so, to learn the Italian language before moving from Japan would be much better.
Shipping from Japan to Italy
Service by air is available to all major airports in Italy such as Milan, Rome and Venice. Service by sea is available to Milan.  If you are moving out of Japan and need to ship your personal items to Italy or to any other European country, contact us to receive a competitive moving quote.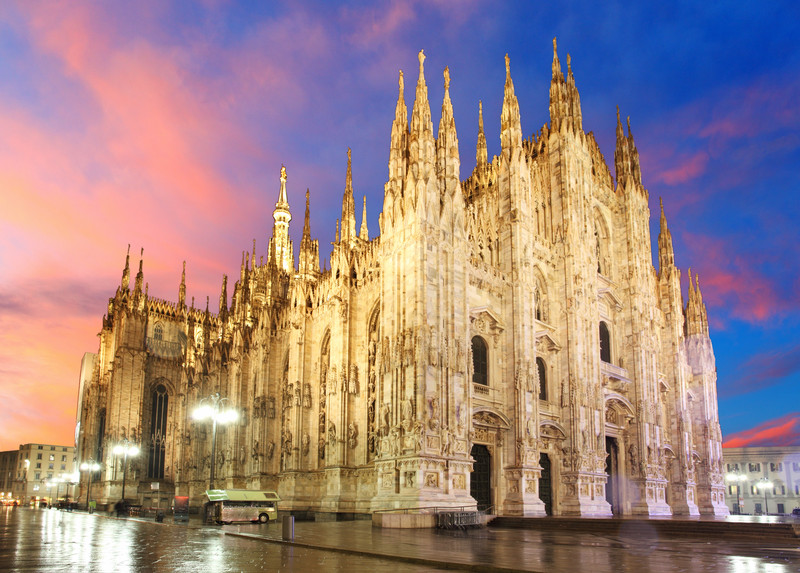 moving from Japan to Italy