Austria - General Information
Austria is a small country content to bask in its elegant and high quality of life. The combination of pristine alpine scenery, bustling cities, world-class museums, cutting-edge architecture, love of tradition, and the Wiener Schnitzel all help add to the Austrian way of life. Why travelers keep coming back to Austria is the sense of gemuetlichkeit, the way of living that celebrates all the finer moments in life.
Austria is a German speaking country full of generally fairly conservative people. More moderate and prudent in their behavior than some other European countries, Austrians enjoy relaxing, good company, and a love of the outdoors. Prompt, polite, and fit, Austrians classify and compartmentalize many things, even to the point of classifying their different kinds of water.
If you are visiting or moving to Austria, you must visit the magical city of Vienna. Vienna is full of history with many highlights to experience. In the inner city of Vienna, youfll find spectacular buildings like the gothic masterpiece, St. Stephenfs Cathedral. With an outstanding and magnificent tiled roof and expansive interior, it is little wonder that St. Stephenfs Cathedral is the pride and joy of Vienna. Another impressive building that is a must-see is Austriafs Imperial Hofburg Palace. Take a tour to improve your understanding and knowledge about the importance of Austria in European history, while seeing the grandeur that the royal families lived in.
Throughout Austriafs history, there have been many musical traditions. In Vienna these traditions include touring the renowned Opera house, listening to the famed Boys' Choir, or attending a ball. One of the most authentic Austrian experiences you can have is attending one of the 450 balls that are hosted every year in this capital city. Not only can you explore dazzling sections of buildings that are normally closed to the public, but the long night of dancing and the formal wear of tuxedos and floor-length ball gowns are a once in a lifetime event for many tourists or for people who moved there and staying only for a short period of time.
Another long and rich tradition in Vienna is the coffee house. A century ago, many writers and artists worked in coffee houses, as they found inspiration conversing with other intellectuals. After the Second World War ended, the cafe scene in Vienna nearly vanished. Many of their regular artists and intellectuals were Jewish and they were gone from Austrian society. The later half of the twentieth century did see a revival of the coffee house, once again fueled by writers, artists, and intellectuals. To understand a little more of this unique coffee house history, visit Cafe Hawelka, Cafe Alt Wein, or The Sacher Cafe.
For food to go along with your coffee, visit the Naschmarkt, a landmark food market in Vienna history. Prices will be on the high end, but it is where the best stand and food can be found. Make sure that you find a sausage stand known as a wurstelstand and have a Wiener Schnitzel with a slice of bread and an Austrian beer.
Whether you are moving there or travelling there, a visit to Austria is not complete without a Wiener Schnitzel or without seeing the beautiful blue waters of the Danube. The Danube does runs through the middle of Vienna, but to the west of Vienna is where the Danube River valley is truly at its best and most romantic. Lined with ruined castles, glorious abbeys, quaint towns, and vineyard after vineyard, the Danube Wachau Valley is perfect for a cruise or a bike ride if you feel so inclined. Though the beauty is abundant here, an important site to consider visiting on the Danube is the Mauthausen Concentration Camp Memorial, where more than 95,000 people died. The memorial is to help the Austrians and the world to never forget those lives that were lost during World War II.
After Vienna, Salzburg is one of the most visited cities in Austria, due to its history and beauty. Stroll along the beautiful Mirabellgarten, featured in movie musical The Sound of Music, where the children learned to sing. Mirabellgarten might be crowded with tourists themselves singing, because little has been done to change the gardens since the movie was made and fans canft help but share their excitement through song. Visit the birthplace of Mozart down in Getreidegasse, a street full of shops in Old Town. Then hike the hill to Hohensalzburg Castle, a magnificent and well-preserved medieval castle. Located at the top of a large hill, its nickname is The Fortress and it breathes life into Salzburgfs skyline. Make sure to listen to the two hundred pipe organ housed inside that is nicknamed the gSalzburg Bull.h To enjoy more music in town, head to the Salzburg Festival House where free musical events are often held for the public to enjoy.
For an afternoon trip outside of Salzburg, discover the Eisriesenwelt Caves, the largest ice caves found in the entire world. Complete with ice palaces, ice figurines, and freezing temperatures even in the summer months, the ice caverns stretch over 42 km. Enjoy a cable car ride and a short hike up to the cave entrance, so donft forget your good shoes and a warm coat.
Speaking of crystals, a visit to the Swarovski Visitor Center is a delightful surprise for many international tourists. Many Japanese people believe Swarovski to be Swiss crystal makers, but they are in fact Austrian although you may already know this if you are going to move there. For over 100 years, Swarovski has been making jewelry and sparkling crystal pieces. The visitor center is especially magnificent and it halls are themed with elegant titles like Meditation, Calligraphy, Crystal Planet, and Ice Lane. The Swarovski Visitor Center is a staggeringly beautiful crystal art collection and is a must see for those who appreciate creative art installations.
Discover more beauty on one of the most famous alpine roads in all of Europe. Drive along the famous Grossglockner Alpine Road. Built in the 1930s and 48 km long, the road takes you through Hohe Tauern National Park to the highest mountain in Austria, Grossglockner Mountain. With a summit of 3,789 meters, your drive to the top will take you by the largest glacier in Austria, called Pasterze. It is a beautiful drive that is well worth the trip, but make sure to drive very safely and perhaps switch drivers so both can see the spectacular views.
Hohe Tauern National Park is itself a wonderful destination for those visiting the Austrian Alps. If you move from Japan to Austria, this will be one of the places you must visit during your stay. Conservation efforts have been made to allow the wild to remain just that, wild. Many European nations have not preserved their countryside and wildlife habitats, but Austria is trying to do its part to keep nature pure for generations to come. The national park is approximately 1800 square kilometers in area, and is the second largest national park in all of Europe. Hiking trails are abundant in the many meadows inhabited by flora and fauna alike, as well as erosion-sculpted rock formations and refreshing waterfalls.
Austrians are preparing for the future through preservation of their landscapes and through predicting the future. The Ars Electronica Center, also known as the Museum of the Future, in Linz, Austria is a museum dedicated not to history or historical artifacts, but to the future. The museum exhibits show predictions for future advancements in biotechnology, genetic engineering, robotics, neuroscience, prosthetics and media art. It is not only an interactive museum, but the designers and engineers hope international visitors will participate with the exhibits which are constantly changing. This is an innovative museum and anyone who loves science will want to spend at least an afternoon at the Ars Electronica Center.
So whether you are looking for beauty in nature, cathedrals and churches, museums and music, or classic European history, Austria is home to all the best things that Europe has to offer. Plan your visit or move today and you too can celebrate the finer moments of life, in the style of the Austrians, gemuetlichkeit! It will be a moving experience for anyone!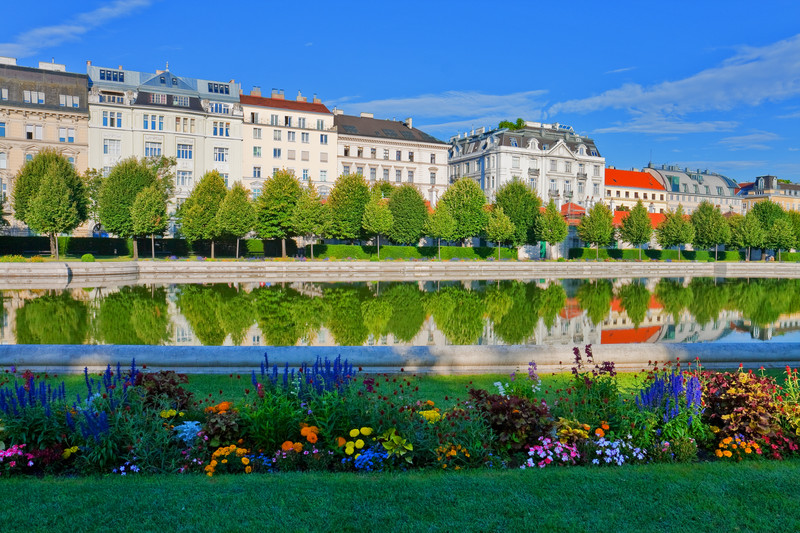 Japan Luggage Express International Movers offers highly competitive rates for the international shipping of personal effects, household goods, excess baggage, cartons or estate items to European countries - perhaps the best in Japan. If you are planning an overseas move from Japan to another country, contact us today to get a competitive shipping quotation by calling us or filing out the online inquiry form on this website to discuss further. We offer multilingual customer support and hopefully this will make your moving anxiety disappear.