Shipping from Japan to Nashville, USA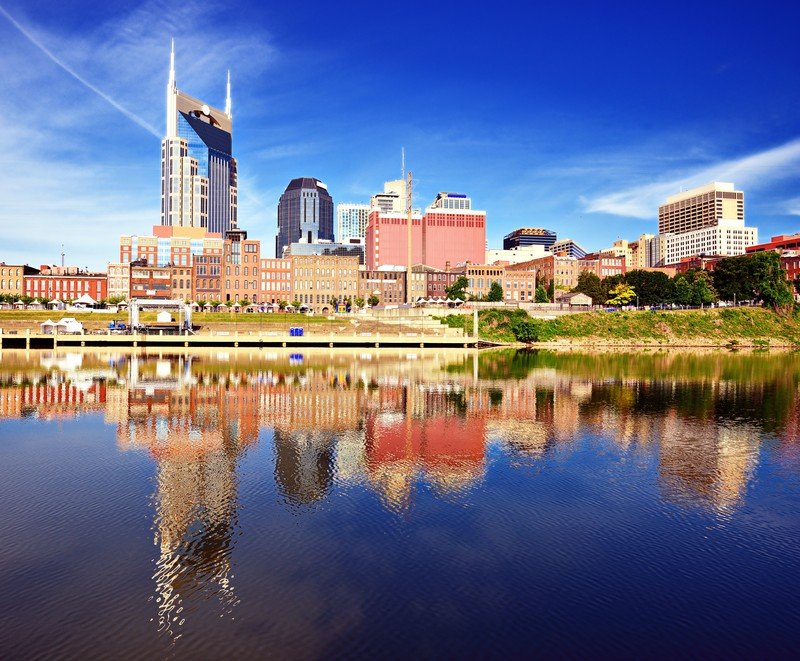 Nashville is perhaps one of the most well-known cities in the South of the United States. For Japanese people, the city may be more like a tourist destination than a moving destination.
If you are moving from Japan to the USA and your shipping destination is Nashville, service by air is available to Nashville International Airport. As of this writing, service by air using the services of United Airlines is available. Although the state of Tennessee is one of the landlocked states, the service by sea is also available. So, you can ship even a large number of packages from Japan. Shipments from Japan to Tennessee will be transported via the port of Los Angeles, California. Another major city in the state of Tennessee where shipping service by sea from Japan is available is Memphis.
Nashville - about the city
Nashville is America's music city, and an absolute must-see if you find yourself in Tennessee. It's worth a trip alone for incredible music and historic venues, delicious places to eat, and sights to see. If you think Nashville is just for country music lovers, think again! There's truly for something for everyone to enjoy, whether you want to soak up the standard tourist attractions, take in the nightlife, or spend some quality time with your family. When you take a look at what Nashville has to offer, you may just be surprised it's more than guitars and cowboy boots!
Music
Of course, you can't talk about Nashville without bringing up the music scene. A must-do on top of everyone's list is a visit to the Country Music Hall of Fame, and the Grand Ole Opry. Even if you're not a country music fan, these attractions go hand-in-hand for anyone who wants to experience a piece of American history. Legends like Johnny Cash, Hank Williams, and even Elvis Presley have stepped on the stage of the Grand Ole Opry, which boasts a rich Americana vibe that everyone will be able to enjoy. If you're looking for different musical styles, though, all it takes is a stroll downtown.
Nashville is known for being musical everywhere you go. The heart of downtown will never fall silent, as there's usually a local artist or someone more well-known playing in just about every venue, coffee shop, restaurant, or bar. You may just walk in somewhere to discover the next big performer of our time!
Other things to do in the city
Nashville does have a ton of treasures beyond music, though, including many hermitages, museums, mansions, and plantations to tour. It's an American history lesson you can actually walk through. Some of the most popular attractions include the Fontanel Mansion, and the Belle Meade Plantation. Historic and educational attractions such as these are great for families to enjoy.
If you get hungry doing all that walking around, grab some traditional Tennessee BBQ, or treat yourself to a home-cooked meal at the historically-famous Loveless Cafe. Nashville has an eclectic variety of cuisine throughout the city, from traditional Southern fare, to ethnic specialities, and everything in between. When you want to keep the fun going into the night, swing by the famous Music City Bar & Grille, that has been a late-night haunt for generations to have a great time, enjoy a drink, and listen to some classic live country music.
Nashville is a city of light-hearted fun and entertainment, full of passionate artists, friendly locals, and tourists who can't get enough of the perfect slice of Tennessee Americana. A trip to the music city will definitely be one you will never forget!
Move to Nashville from Japan with JLE
If you are considering an overseas shipping from Japan to the USA, Japan Luggage Express has got your shipping needs covered. As a leading international moving company in Japan, we have been helping people ship their personal effects and household goods from Japan to worldwide destination, USA being the top destination. We offer economical various types of shipping services depending on the customs needs.
Whether you would like to ship by sea or by air, we are one of the most experienced Japanese international shipping companies specialized in the field of personal effects. Our vast knowledge on overseas moving, insurance, laws, domestic transportation will ensure your shipping experience with us stress-free. If you are relocating from Japan to the state of Tennessee, come to Japan Luggage Express.