Moving from Japan to Denmark
Shipping from Japan to Denmark
Are you moving back from Japan to Denmark or newly moving to Denmark? If you are, then Japan Luggage Express can help you shipping your personal belongings. Our company is specialized in shipping personal effects of international residents in Japan who are moving abroad. We offer shipping services both by air and sea and depending on the size and weight of your consignment, you can choose the most cost-effective shipping method. This website gives you comprehensive information on overseas moving and shipping from Japan. We hope that you find hem useful. To receive a quotation for your move, please feel free to contact us any time by phone or simply fill out the online inquiry form on this website.
About the country of Denmark
Consistently gracing the highest spots in surveys about countries around the world, Denmark is a marvelous country. The Danes have established a society where an inclusive and equitable spirit lends itself to a quality of life not found in many places. They ensure all citizens have access to the best that their society offers, be it food, entertainment, or the arts. The grossly rich or grossly poor are few and far between, and there is an understanding that people shall be helped and treated in the same manner, no matter of their appearance, age, gender, sexual orientation, or wealth. Everyone is welcome and Denmark consistently beats almost all other nations when it comes to quality of life and overall societal happiness. Denmark is an amazing country, and the world has noticed.
Denmark is geographically unique, nestled in northern Europe and consisting of the Jutland peninsula that protrudes into the Baltic Sea, as well as 433 islands known as the Danish Archipelago. It's only land border is Germany to the south and Norway is just across the Oresund straight to the northeast. Denmark's temperate weather help lend to it being such an idealistic place to live and visit. Summers are moderate to cool and their winters on the mild side. Located along the 55th parallel north of the equator, this moderate weather is due to the North Atlantic Current which is part of the North American Gulf Stream that brings warm temperature to the coastal countries of Europe. The terrain of Denmark consists mainly of shoreline and gentle hills, all lending itself to a beautiful and calming setting for a just and happy society.
Transportation in Denmark and Copenhagen is perhaps some of the best and hassle-free of any capital city in the world. The average Dane travels approximately 375 miles by bike per year and one out of three people commute to work by bicycle. If you want to live like the locals, explore Copenhagen and more of Denmark by bicycle. Bicycles are easy to rent and the city is designed to see on two wheels.
As one visits and explores Denmark, the minimalism of Danish architecture and design is evident and appealing, even to those not necessarily keeping their eyes peeled for design. As in the style of a lot of Japanese design, form follows function in Danish architecture. Interior lighting throughout Denmark is well understood and well executed in design, allowing for natural light to be utilized abundantly. Sustainability and function are more important than glamour. Flashy, tall buildings are not the norm for the Danes, to which the tallest building in Copenhagen, the Christiansborg at a mere 358 foot tall, can attest.
Perhaps the best place to grasp and appreciate the Danish culture is in Copenhagen. Copenhagen, the capital of Denmark, originated as a fishing village in the 10th century and has grown to a metropolitan population of almost two million people. Copenhagen will not fail those wanting to explore and understand what makes Denmark so special.
Tivoli is truly a symbol of Denmark and one of the beautiful outdoor spaces that help to make Copenhagen special. Tivoli is a unique outdoor recreational space that was actually part of the inspiration behind the American Disney theme parks, with a roller coaster, puppet theaters, gardens and restaurants. With fireworks at night, Christmas lights in the winter, and rock concerts in the summer, Tivoli is a must see and at the top of many a visitor's lists.
Copenhagen has many sights to see. For another picturesque Denmark destination, the Nyhavn (New Harbor), is a charming section of town that invites visitors to take an afternoon stroll or sit and relax at a cafe. Consequently, it can be bustling with many tourists. For magnificent panoramic views of Copenhagen, climb the Rundetarn (Round Tower) to its observatory that was built in 1642. If you're feeling you can venture out onto a glass floor that hovers approximately 25 meters above the ground and gives you more unique views of the city.
Other sites to see in Denmark are numerous and memorable. The Renaissance era Egeskov Castle is one of the best preserves moat-castles in all of Europe. Only recently opened to the public in 1959, highlights include a vintage car museum, treetop walks, and a memorable banqueting hall. The Rosenborg Castle,
The Oresund Bridge connects Amager and Oresund in Denmark (on the island Zealand) to Skane, Sweden. It officially opened in July 2000. It is a total length of just over 10 miles (16,4 km) and carries more than 60,000 travelers daily and 4-lane road carrying 6 million vehicles per year, and two train tracks (another 8 million people each year). Despite being controversial through the decades of planning, the bridge is now a Scandinavian icon after opening in 1999.
One thing about Denmark that one should not only be aware of but look forward to experiencing is the idea of the hygge. Hygge can be somewhat difficult for a visitor to translate or understand, but it has a profound and unique presence in the lives of the Danes. Through and because of many Danish traditions, a sense of camaraderie and comfort thrives, a sense of a social nirvana that is known as Hygge. All the traditions the Danes follow during every holiday, every celebration, every feast, from birth to death. This makes the Christmas and New Year's holidays a prime time to visit Denmark.
Some seasonal staples for the Danes include "glogg" (mulled wine), "julebryg" (specially brewed Yuletide beer), a warm hat, a pair of good boots, walking around the Citadel, and selvfolgelig (leaving your shoes at the door). Danish Christmas markets are especially unique in the Christmas market spectrum with standard licorice candies, designer candle holders, wooden children's toys, and crafted Inuit jewelry.
With all that the Danish have to preserve and hope to keep beautiful for generations to come, it is no surprise they are a very green country. With electric buses, organic bamboo clothing, and over half of the food served in public institutions being organic, Copenhagen was voted the 2014 European Green Capital recognizing its ever-high environmental standards. By 2025, Copenhagen hopes to become the world's first carbon-neutral capital city.
Denmark has proven to the world that it is a wonderful and spectacular country to live in. The Dances have old-fashioned charm countered perfectly with a liberal, forward-looking, and all-embracing society. The conscious celebration and inclusion its people and its culture has truly created something amazing for the world to see and experience. In a day and age when bigger and better tends to sway the average mind, the Danes have shown that minimalism and simplicity create hygge, happiness, and satisfaction, peace and a community for all to be accepted and embraced.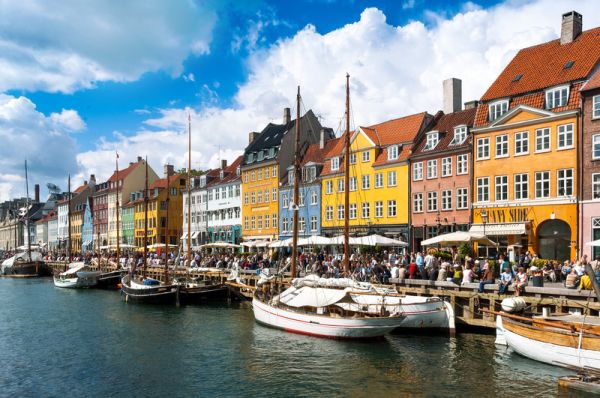 Moving to Denmark - first step
When you move to Denmark from Japan on more than a short term basis (more than 90 days), you will have to register with the local authorities in the municipality in which you (intend to) reside. In most cases you will need a residence permit, the terms and duration of which depend on various aspects, such as whether you are a Nordic or EU/EEA citizen, if you are in employment or job-seeking, a student etc. The residence permit will enable you to receive a Civil Registration Number (CPR), which in turn makes it possible for you to obtain a Nem ID, which is a special, secure single sign-in solution used for most digital communication with the public sector, banks etc. You should also be aware that when you move to Denmark you are obligated to have a Digital Post account, to which most mail from public authorities will be sent. This account is automatically created for you when you receive your CPR number, unless you apply to be exempted. It is accessed via the national citizen's portal www.borger.dk. A good starting point for information when you are moving to Denmark is the official web portal newtodenmark.dk, which is provided by the Danish Agency for International Recruitment and Integration.
Transportation
Owning a car is very expensive in Denmark, as a registration fee of 180 pct. of the value of the car must be paid when buying a car, old or new. Petrol is also pricey. For this reason, and because the Danes are generally a fairly environmentally conscious people, you will see many people, especially in the major cities, cycling to/from work and for everyday transport. Denmark is considered cycle-friendly, and you will also find more dedicated bicycle lanes than in any other country. Public transport is also fairly comprehensive, but be aware that single-trips are quite expensive. It is possible, however, to receive major discounts for frequent travellers, commuters, etc, so it is recommended to acquaint oneself with the price structure soon after internationally moving in to Denmark.
Costs of living
Denmark generally has a fairly low unemployment rate, fairly high salaries but also high costs of living. Apart from a personal allowance of ca. 43,000 DKR/year, between ca. 36 and 53 pct. of one's personal income is paid in direct taxes to various levels of government. There is also a standard value added tax (VAT) of 25 pct. which applies to almost all goods including food and drink. On the other hand, several services which can be rather costly in other countries, are publicly funded. Medical services, including consultations with private practitioners, surgeries etc. and education, all the way from primary school to university, are generally free for residents of Denmark.
Language
The national language is Danish, which is difficult for people from abroad to learn due to the pronunciation and the large number of vowels (three more than in standard Latin alphabet), whereas the grammar is comparatively easy. Danes are known, however, for their excellent language skills, and most Danes are generally able to have a reasonable conversation in English, some being almost fluent and with fairly little accent. Many Danes, especially in the southern part of Jutland and on Funen, also speak German and most can understand written and spoken Swedish and Norwegian. Other languages such as Spanish, Italian, Russian and Chinese are occasionally taught in the Danish school system (differs from school to school). There are also areas with a large number of immigrants from Middle East and also their descendants in Copenhagen, Aarhus and Odense. In these areas Arabic is widely understood and spoken.
Crime
Denmark is among the least corrupted countries in world, and general crime levels are low, especially homicides and violent crimes. Pick pocketing, especially around tourist attractions, exists but is not common. The exception is break-ins, the number of which (per 100.000) is among the highest in the European Union. Caution is advised when moving in certain areas of the major cities, but generally speaking Denmark is considered very safe. So, if you are moving in from Japan bear this in mind.
Mobility of Danes moving to other countries
There are no official figures as to how many Danes are living outside of Denmark. In 2012 it was estimated that approx. 172.000 Danes were living abroad (3 pct. of the total population of Denmark). Approximately 25 percent of these live in Sweden, most of them in the region of Scania, which is just across the Sound from Copenhagen. It has previously been estimated that between 15.000 and 20.000 Danes live in each of the countries of Norway, Germany, United Kingdom and Canada, and about 30.000 in the USA.