The Electricity of Akihabara
Akihabara, also lovingly nicknamed 'Akiba' by the locals, is a splendid mecca of electronics, otaku culture, and dozens of maid cafes. Whichever way you look, there is something to delight your inner techie, otaku, or Japanese culture enthusiast. For those who seek the intermingling of excitement, bright lights, and anime, Akihabara is the ultimate stop during your visit to Japan.
Let's have a look at the exciting things awaiting you in Akihabara.
Check out the cafes
Surely many tourists have an interest in the wacky themed cafes throughout Japan. Akihabara is the epicenter of this trend, with Ikebukuro following closely behind. Just walking around the streets, you will see billboards for maid cafes, cat (and other animal) cafes, manga cafes, and adult-oriented ones too. Do be aware that many maid and butler cafes have a cover charge.
The recommended ones are as follows:
Gundum Cafe-- the lattes are recommended, because you get Gundam-themed latte art.
AKB48 Cafe-- this is a super popular location because the cafe is covered in pictures of the AKB48 girls and even has a boutique that sells anything having to do with the group.
Final Fantasy Eozea Cafe -- Moogle waffles.
JAM Akihabara Cafe -- a top-rated maid cafe with super cute sweets for a decent price.
Cat Cafe Mocha -- need a break from all the people? Cozy up with some friendly cats.
The Hot Dog Cafe -- you don't even have to eat here, just go see the hot dog statue.

Visit the Radio Center
Off the Electric Town exit, before Chuo Street, is a place of historical significance to Tokyo. Many of the stores still open today at Akihabara Radio Center have been in business since World War II. During those days, the stores sold bits and pieces of radios so that people could make their own sets. Nowadays, you can find practically anything here. For the DIYer or handyman, Radio Center will leave you feeling like a kid in a toy store.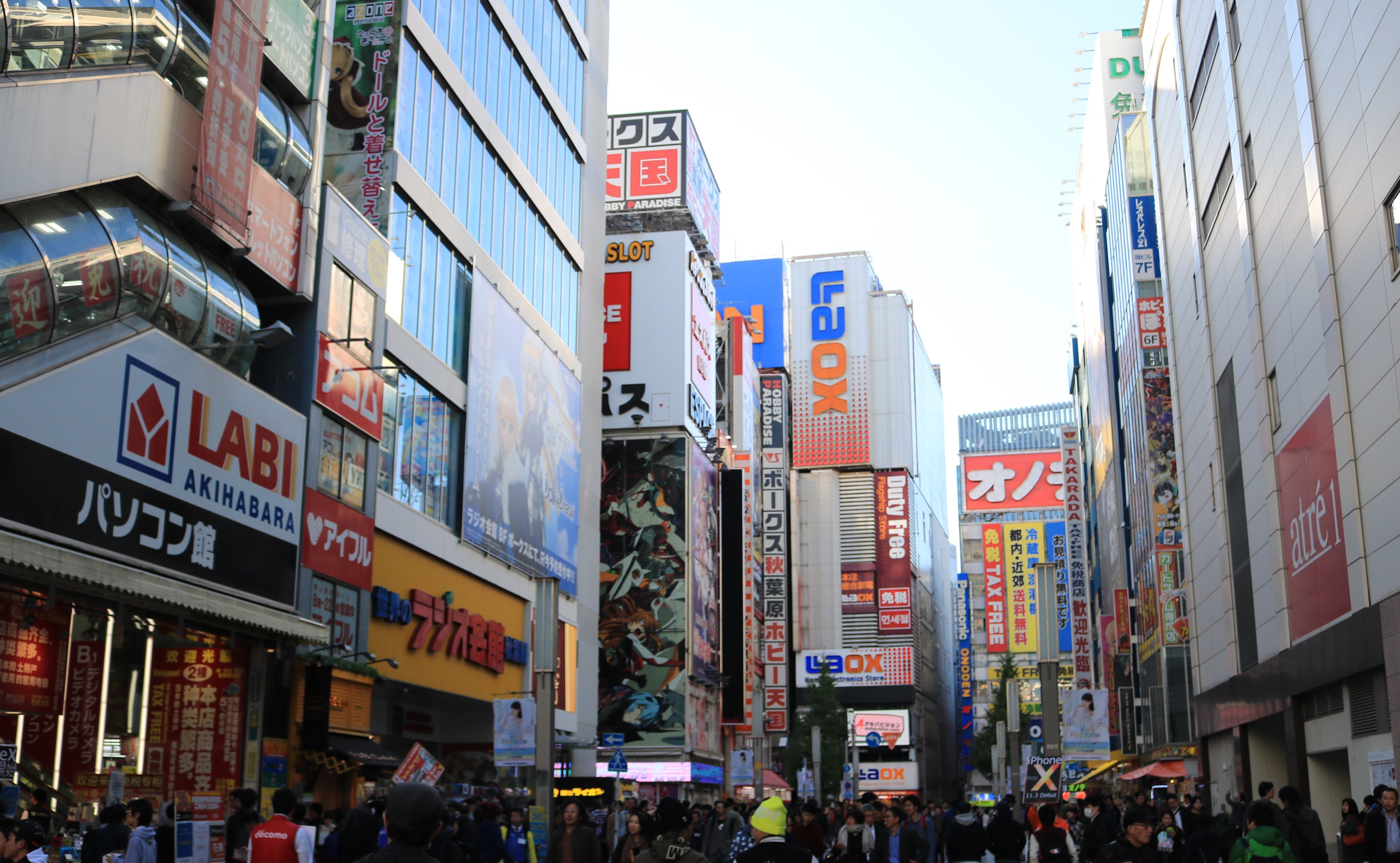 Arcades Galore
Akihabara is where serious gamers go to play at the arcades, especially the ones right off the Akihabara Electric Town exit. You don't have to worry about dropping coins into machines if you don't want to. Watching the expertise of some of the gamers playing on the racing machines, drums, and Dance Dance Revolution will be entertaining enough. Some of these people are so good, they generate huge crowds around them.
One of the best arcades located in Akihabara, though, would be the SEGA store. Another would be TAITO's Hey, where you will find retro arcade machines to take you back to the start of video gaming. Lastly, for those who wouldn't call themselves competitive when it comes to gaming, you can check out Tokyo Leisure Land. The video games here have instruments and are made for beginners.
Get lost in Yodobashi
One of the biggest draws to Akihabara would be the colossal building known as Yodobashi Akiba, where you will find anything and everything. Even around the outskirts of the building, there are food stalls featuring takoyaki, taiyaki, ice cream, and other street vendor favorites. Inside, you will be able to climb floor after floor of technology, housing appliances, toys, video games, CDs, books, and even a golfing school and batter's box. Plus, the entire building is tax-free and people on a Temporary Visitor visa can get an additional discount.
If you want something sweet, The French Toast Factory on the dining floor is highly recommended.
Find a hidden treasure trove
Now, one of the main reasons anyone ventures into Akihabara would be for the anime. You can head to the Animate, but it's not as big as the headquarters in Ikebukuro, so you might not find what you're looking forward. Instead, find the hidden treasure trove called Hobby Off, which is near Yodobashi Camera, right beneath the McDonald's and 7-11. As you walk the hallway leading to the store, you will see rare models and anime paraphernalia. Then, you can work through rows upon rows of collector items, stuffed animals, and other trinkets for deeply discounted prices.
However, if you don't find anything at Hobby Off, there are a couple of other places to check out, like Mandarake, Lashinbang, and the Anime Center. The latter, which is located inside the UDX building, is one the fourth floor, and is best when they are having special exhibitions. Otherwise, you can simply focus on the first two.
Visit the IT Ninja shrine
Though it's not technically right in Akihabara, Kanda Myojin Shrine has gotten quite popular with the computer-loving crowd. No day is complete for IT masters, keyboard warriors, and cosplayers unless they make a stop at this shrine, where they pray for impregnable firewalls and unhindered data flow. You can even by talismans that ward off hacking.
Kanda Myojin Shrine Address: 101-0021 Tokyo-to, Chiyoda-ku, Sotokanda 2-16-2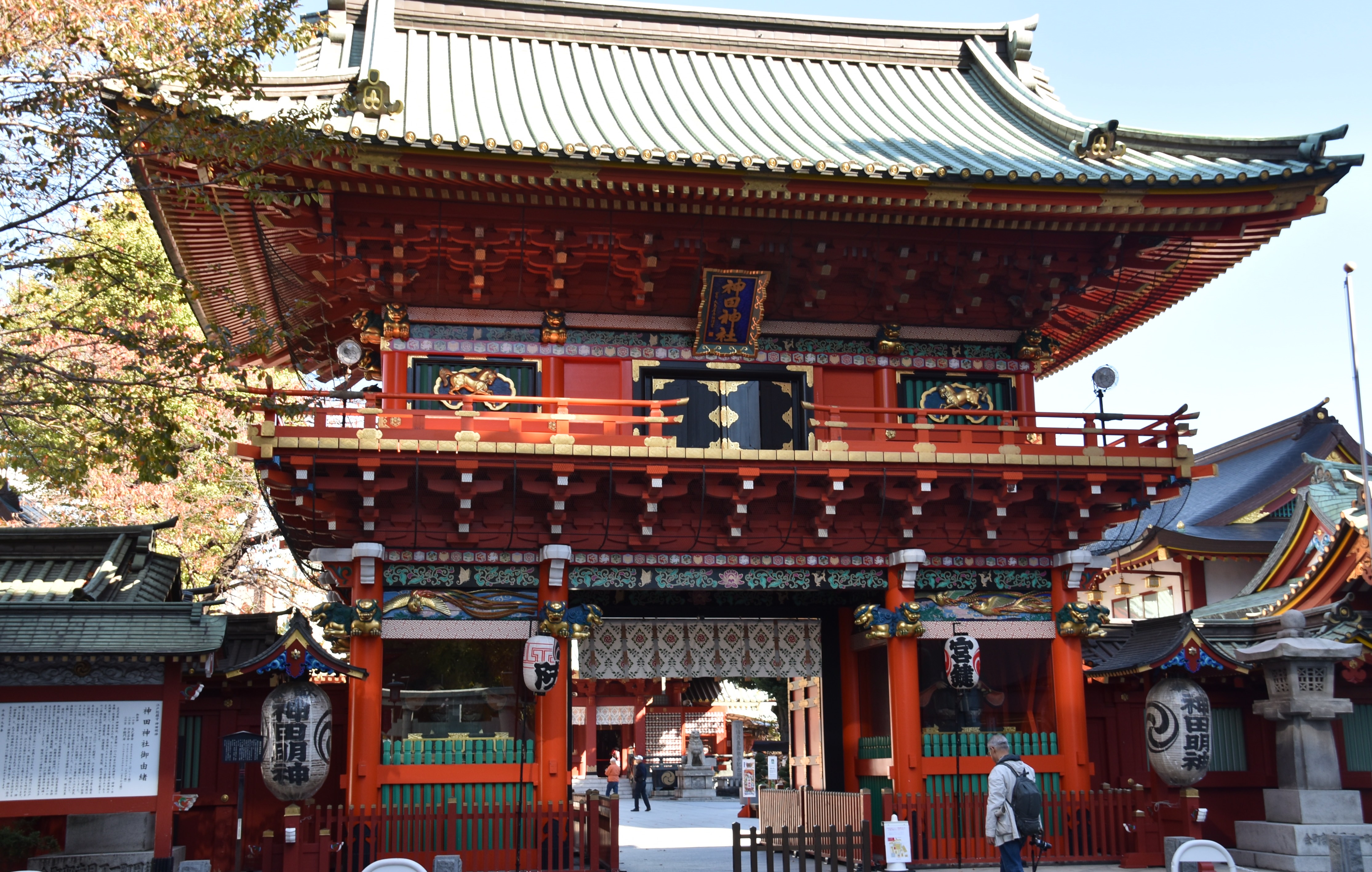 Check out the Mottainai Flea Market
For those who want to embrace the "mottainai" philosophy of Japan, you too can take part by checking out the flea market stalls that pop-up around Akihabara UDX on Saturday and Sunday, once a month. Be sure to check the schedule to figure out exactly when it's happening. At the UDX flea market, you will find crafted goods, secondhand clothing, CDs, DVDs, and more.
Play Gachapon
There is a special place in Akihabara called the Akihabara "Gachapon Kaikan" that lets you partake in the fun of this special type of vending machine. Though you can certainly find Gacha in other places, Akihabara Gachapon Kaikan is the absolute mother load, with more than 450 machines all lined up in a warehouse.
Instead of food or drinks, the Gacha drops a small prize. The machines located here are usually changed to reflect seasons, various anime, games, movies, and other small toys that happen to be trending. It's the perfect place to load up on souvenirs for all your friends.
Akihabara Gachapon Kaikan Address: Chiyoda-ku, Sotokanda, 3-15-5, MN Building 1F, about 5 minutes from the JR Akihabara Station.
As you disembark from the JR Station, either via Yamanote, Keihintohoku, or the Chuo-Sobu Line, you will see the roads of Akihabara stretching out all around the platform. No doubt, you'll be receiving an eye-full of landmarks like Radio Center, Yodobashi Akiba, and M's Pop Life. Though you don't necessarily have to go to these places, merely wandering the streets of Akihabara is going to be a treat within itself.
Japan Luggage Express Ltd.- Home